Archive for May, 2012
Rachdingue Ortaffonic & Yellie Pink presentan:
▬▬▬▬▬▬▬▬▬▬▬▬▬▬▬▬▬▬▬▬▬▬▬▬▬▬
▬▬▬▬
RACHDINGUE FESTIVAL 23_06 (Nuit de la st jean) // NIT DE SAN JOAN
▬▬▬▬▬▬▬▬▬▬▬▬▬▬▬▬▬▬▬▬▬▬▬▬▬▬▬▬▬▬
PREVENTES – FR : http://www.moxity.com/events/ortaffonic-yellie-pink-presentent-rachdingue-festival-2012
ES: COMPRA TUS ENTRADAS ANTICIPADAS AQUI: Ticketscript http://www.rachdingue.com/
•••••••••••••••••••••••••••••••••••••••••••••••••••••••••••••••••••••••
MARC ROMBOY + NINA KRAVIZ + FOREIGN BEGGARS +PSYCATRON + MASOMENOS + SON OF KICK
3 ESCENARIOS (AIR NEW OPEN con una sorpresa!) – 12H DE MÚSICA ELECTRÓNICA (30 kilovatios de Funktion One) – un lugar mítico
-3 SCENES (NOUVEAU OPEN AIR avec une surprise !) – 10H DE MUSIQUE ELECTRONIQUE (30 kw de funktion one) – 1 lieu mythique
START : 21h
// 7h
•••••••••••••••••••••••••••••••••••••••••••••••••••••••••••••••••••••••
PROGRAMMATION : ROGRAMACIÓN
¯¯¯¯¯¯¯¯¯¯¯¯¯¯¯¯¯¯ ¯¯¯¯¯¯¯¯¯¯¯¯¯¯¯
•••••••••••••••••••••••••••••••••••••••••••••••••••••••••••••••••••••••
SCENE ORTAFFONIC TECHNO (nouvel espace+ vjing) // (NEW OPEN AIR TERRASSA)
•••••••••••••••••••••••••••••••••••••••••••••••••••••••••••••••••••••••
◆ MARC ROMBOY, Dj Set (Systematic, All)
http://marcromboy.com/
http://soundcloud.com/marcromboy
◆ PSYCATRON, Live (Waywayrecords, Ir)
http://soundcloud.com/psycatron
◆ TRAUMER & HELAS, Live ( Skryptom, 1605, Ortaffonoic, Fr)
http://soundcloud.com/traumer
http://soundcloud.com/helas
http://soundcloud.com/traumer/h-las-traumer-departure-in
◆ MORGAN HAMMER & DAMIAN, Dj Set ( Correspondant, Creme de Booking, Fr)
http://soundcloud.com/morgan-hammer
http://soundcloud.com/cremebooking
http://soundcloud.com/demianmusique
◆ YOAN L & PASSKAL MIT, Dj Set ( Rachdingue, Ortaffonic, Fr)
http://soundcloud.com/yoan-l
http://soundcloud.com/passkal
◆ IGNASI D'EGARA, Dj Set ( Rachdingue, Cat)
http://soundcloud.com/weedj/tracks
◆ DAVID DESSENS, VJ
•••••••••••••••••••••••••••••••••••••••••••••••••••••••••••••••••••••••
SCENE RACHDINGUE TECH HOUSE // (OPEN AIR TERRASSA)
•••••••••••••••••••••••••••••••••••••••••••••••••••••••••••••••••••••••
◆ NINA KRAVIZ, Dj Set (Reskin, RU)
http://www.myspace.com/damelaayer
◆ MASOMENOS, // 2h Live & 2h Dj Set (Welcome to Masomenos, Fr)
http://soundcloud.com/welcome-to-masomenos
◆ NEET, Dj set (Zoo club, Fr)
http://soundcloud.com/neet
◆ HOSER, Dj set ( Ortaffonic, Fr)
http://soundcloud.com/hoser-1
◆ ESTEBAN & VAX1, Dj set ( Rachdingue, Viky prod, Es)
http://www.soundcloud.com/vax1
http://www.soundcloud.com/vaxfunk
◆ HENRY BRUBAKER, VJ ( Kompakt )
•••••••••••••••••••••••••••••••••••••••••••••••••••••••••••••••••••••••
SCENE YELLIE PINK DUPSTEP // (MAIN ROOM)
•••••••••••••••••••••••••••••••••••••••••••••••••••••••••••••••••••••••
◆ FOREIGN BEGGARS (Dented Records,Uk)
http://soundcloud.com/foreignbeggars
◆ SON OF KICK (Multi Music, Wayway Records,Uk)
http://soundcloud.com/sonofkick
◆ ASIAN TRASH BOY (Asian Records, Fr)
http://soundcloud.com/asian-trash-boy
◆ TEALANB ( Rewind, Fr)
http://soundcloud.com/tealanb
◆ XOMA SILENT LISTENER ( Rewind, Fr)
http://soundcloud.com/xomasilentlistener
https://www.facebook.com/xomasilentlistenerofficial
◆ SWORZ & MC BRAMS (Yelliepink,Fr)
◆ YTO & LEMANUEL Live! + Dj Set. (Sonotech Rec, Es)
http://www.sonotech-crew.com/
◆ MARC TRAFAK, VJ ( Rachdingue, Cat)
▬▬▬▬▬▬▬▬▬▬▬▬▬▬▬▬▬▬▬▬▬▬▬▬▬▬▬▬▬▬▬▬▬▬▬▬▬▬▬▬
Vivir la experiencia electrónica?
Pasa por el sonido! Y con este programa siempre hay algo para todos! Pero también significa por la vista: Vj's profesionales vendran compartir sus mundos sobre una estructuras de locura, y todo eso para la mayor felicidad nuestra…
Y eso en la masia la mas surréalista de Cataluña: el Rachdinque Club.
Inaugurado en 1968 por Salvador Dalí y Miette (inspiró del libro de Henri-François Rey) es un lugar salpicado de arte contemporáneo, de obras surrealistas que dan una atmósfera mística tanto como excepcional!
La receta es completa para los électrophyles, agitar un poco y se obtendrá:
12H DE MÚSICA EN UN AMBIENTE CALENTITO DE ELECTRÓNICA
LA SITA ES FIJA: Sábado, 23 de junio a Le Rachdingue. 21H_07H
▬▬▬▬▬▬▬▬▬▬▬▬▬▬▬▬▬▬▬▬▬▬▬▬▬▬▬▬▬▬▬▬▬▬▬▬▬▬▬▬
Vivre l'experience électronique ?
ça passe par le son ! Et avec cette programmation il y en a pour tout les goûts ! Mais ça passe aussi par la vue :
Des vj plus que professionnels viendront partager leurs mondes, projetés sur des structures démentielles, tous ça pour le plus grand bonheur de nos pupilles…
Le tout dans le mas le plus décalé de Catalogne : le Rachdinque Surréaliste.
Ouvert en 1968 par SALVADOR DALI ET MIETTE (et inspiré d'un livre d'Henri-François Rey) c'est un lieu pimenté d'art contemporain, d'oeuvres surréalistes qui y font régner une ambiance autant mystique, qu'exceptionnelle !
La recette est complète, saupoudrer le tout d'électrophyles, secouer un peu et vous obtiendrez :
12H DE MUSIQUE DANS L'AMBIANCE CHALEUREUSEMENT ELECTRONIQUE DU RACHDINGUE.
LE RENDEZ-VOUS EST FIXÉ : SAMEDI 23 JUIN AU RACHDINGUE. 21H_07H
J-15 AVT D'Y GOÛTER SUR LE SITE OFFICIEL :
http://www.rachdinguefestival2012.com/
http://www.rachdingue.com/
http://www.facebook.com/RACHDINGUE.CLUB
▬▬▬▬▬▬▬▬▬▬▬▬▬▬▬▬▬▬▬▬▬▬▬▬▬▬▬▬▬▬▬▬▬▬▬▬▬▬▬▬
Entrés : Entradas
PREVENTAS – PRE-VENTES : 25€ + CONSO
ES: COMPRA TUS ENTRADAS ANTICIPADAS AQUI: http://www.rachdingue.com/
FR: PREVENTES https://www.facebook.com/pages/Ortaffonic/250639554974403?ref=tn_tnmn ==> Billeterie " Moxity"
On Site -Sur place : 30€ + CONSO
◆ Contact :
Ortaffonic@gmail.com
contact@rachdingue.com
PARTENAIRES :
LETSMOTIV http://www.letsmotiv.com/
PROTON RADIO : http://www.protonradio.com/
.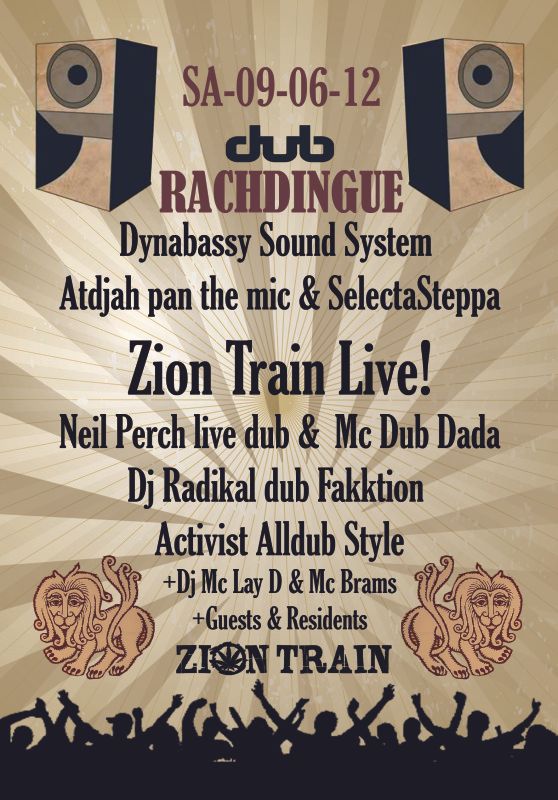 ▬▬▬▬▬▬▬▬▬▬▬▬▬▬▬▬▬▬▬▬▬▬▬▬▬▬
▬▬
★ ZION TRAIN Live !!!! ★ BY DYNABASSY ★ CRAZY MONKEY ★
▬▬▬▬▬▬▬▬▬▬▬▬▬▬▬▬▬▬▬▬▬▬▬▬▬▬▬▬
★ Dynabassy Sound System ★
.
★ Atdjah Pan the Mic & SelectaSteppa ★
.
★ Zion Train, Neil Perch live dub & Mc Dub Dada ★
.
★ Dj Radikal dub Fakktion ★ Activist Alldub Style ★

.
★ Dj Fakktion (Drum Dna, Blokk Session)

.
★ DJ MC LayD (Beats&Tricks) & Mc Bram's

.
+ RESIDENTS

.
Open Air Terrassa Powered by Dynabassy Sound System!!!!
▬▬▬▬▬▬▬▬▬▬▬▬▬▬▬▬▬▬▬▬▬▬▬▬▬▬▬▬
✔ ZION TRAIN
http://www.wobblyweb.com/zt/
Zion Train are Dub/Dance pioneers and have been undisputed leaders in the genre for the past 2 decades. The band were heavily involved in alternative and DIY underground culture in the UK during the 1990s as well as being purveyors of the finest Roots Reggae music throughout this period. They are one of the finest live dub acts on the planet and promoted the practice of dynamic onstage dub mixing which they perform alongside acoustic instruments and the best vocalists
Zion Train was founded by Perch (live dub mixing /production), in 1990 and he was later joined by Cod (melodica/production), Tench (production), Molara (voice), Hake (trumpet), and Forkbeard (trombone). Between 2001 and 2005 Dubdadda added extra live vocals and Bigga replaced Forkbeard on trombone in 2001, they were joined by Richard Doswell on tenor sax in 2009. The live line-up has always been very flexible, varying from Perch and a vocalist for sound-system gigs, to an extended lineup for larger events. Zion Train live always features a variety of renowned vocalists but primarily, the band have been fronted by Dubdadda.
Zion Train have been one of the planet's most prolific groups, along with a mammoth recorded output and innumerable production credits, remixes and song writing collaborations they have produced magazines, CD-ROMs, Internet sites and built sound systems. Their early releases were on their own Universal Egg label, until in 1995 they signed to China Records. They released the world's first promotional dub music video for the 'Get Ready' single and caused a furore with the publicity campaign for their 'Homegrown Fantasy' album. Back on their own Universal Egg label since 1999, they have continued to release quality dub, electronica and world dance music. Their work from the past 20 years still sounds fresh to today's discerning ears.
007 saw the release of the band's long awaited album 'Live as One', their ninth. It was awarded a coveted Jamaican Reggae Grammy for 'Best Dub Album'. The album featured vocals from Earl 16, Tippa Irie, Dubdadda, YT, Marlene Johnson, Raiz and Lua. It was incredibly well received and the tour engendered enthusiastic responses in all territories visited. They continued a pace into 2008/09 with shows in regions not previously covered, including Japan, Scandinavia and The Baltic states. There were also hugely successful festival appearances throughout the summer, highlights in the UK included Arcadia Spectacular at Glastonbury and WickerMan festival, also Reggae Geel in Belgium, Rototom Sunsplash in Italy and Reggae Sun Ska in France.
2009 was rounded off with a further tour to promote the release of the 'Live as One Remixed' album. Taking in 15 nations to present the next installment, they received rave reviews throughout. The album was remixed with imagination, quality and depth, by like-minded musicians, bringing amazing results. It involved friends and collaborators in regions as diverse as Poland, Crete, Brazil, Mexico, Croatia, France, Italy and of course UK, The band had a storming Summer of festivals in 2010, highlights included; Sunrise & Beat Herder in the UK, Sudoeste in Portugal, Ostrava in Czech Republic and Ostroda Reggae festival in Poland.
From the beginning of 2010 Perch was back in the studio writing for the next Zion Train album 'State of Mind' which was released in September 2011. This was previewed with a single, entitled 'Rainbow Children', an update of the Aswad classic with Brinsley Forde joining Dubdadda on vocals. Also, in June 2011 'The Very Best of Zion Train – Dub Revolutionaries' was released on the highly respected world music label Nascente, home of recent releases from Skatalites, Manu Dibango, Nusrat Fateh Ali Khan and Ladysmith Black Mambazo.
In 2011 Zion Train completed the 14 date 'Dub Fiyah tour' of both US coasts, with Rocker T on vocals. There was much excitement as this was their first trip Stateside for 15 years. Shows in; Oregon, Northern California, San Francisco, LA, Boston, Vermont, Massachusets, Brooklyn and NYC, will be followed by festivals over summer 2012 followed by autumn dates to promote the new album 'State Of Mind'.
Other prospective dates for 2012 already include a fifth tour of Japan and visits to Latin America and the Caribbean!
▬▬▬▬▬▬▬▬▬▬▬▬▬▬▬▬▬▬▬▬▬▬▬▬▬▬▬▬
✔ DJ FAKKTION
Descubre los 90 primeros Dub Cherbourg, a partir de ese momento la pasión nunca lo abandonó, examinando todas sus variantes: resumen, las raíces, steppa ….
Esto dará lugar, en 1999, creando el programa Babylon Prozac en la radio 666 en Caen. Hasta el año 2000, el salón ofrecerá esencialmente el Dub: King Tubby con desprecio.
Después de esta experiencia de radio, creó el sistema de sonido en la compañía de la Unidad BassKom selecta Theo. Gestiona, a primera vista, y el sonido del Dub
lógicamente se volvió a la selva y bajo Drum'n, donde se encuentra el devastador líneas de bajo que él ama.
En 2005, el Dj Fakktion se mueve con entusiasmo hacia un nuevo estilo del "dubstep" y luego se convirtió rápidamente en un hito del estilo entonces desconocido en la región.
En 2006, inauguró una serie de mixtapes "regreso al templo del dub", de los cuales cuatro volúmenes están disponibles en la actualidad.
Con una experiencia de más de diez años por detrás de las tornamesas, DJ FakKtion distile sus sets enérgicos y "lleno de graves" en eventos tales como: Impacto Nordik
Factor (i) la carga del Glazart París festival de calor en la oscuridad,
••••••••••••••••••••••••••••••••••••••••••••••••••••••••••••••••••••••••••••••
► START 23h – 06h
✔ Entrada 10 euros Antes de la 01h00
✔ Entrada 15 euros include Long Drink
✔ Cerbeza 4 euros
••••••••••••••••••••••••••••••••••••••••••••••••••••••••••••••••••••••••••••••
http://www.wobblyweb.com/zt/
http://www.rachdingue.com/
http://www.facebook.com/RACHDINGUE.CLUB
.

▬▬▬▬▬▬▬▬▬▬▬▬▬▬▬▬▬▬▬▬▬▬▬▬▬▬▬▬
RACHDINGUE DISCOTHEQUE SURREALISTE SA 26-05-12
▬▬▬▬▬▬▬▬▬▬▬▬▬▬▬▬▬▬▬▬▬▬▬▬▬▬▬▬
★★★ RACHDINGUE & M.I.T CONCEPT PRESENTA ★★★
…
✿ J.ROB (EM cat • Energy Base) Cat
http://www.facebook.com/profile.php?id=100002798506088
.
✿ YOAN.L & PASSKAL (Rachdingue • Mit Concept) Cat
http://www.facebook.com/MITCONCEPT
.
✿ VAX-1 (Rachdingue • SunSet Roses) Cat
http://www.facebook.com/DjVax1
.
✿ MISKA VS (Pink City Beats • Inox club) Tlse
http://www.facebook.com/profile.php?id=539708010&ref=ts
.
✿ BEUN (Pink City Beats • Inox club) Tlse
http://www.facebook.com/profile.php?id=741419137
.
✿ PEHA VS (Inox World Tour • The Mad Fest) Tlse
http://www.facebook.com/deejaypa
.
✿ PANDA (Inox World Tour • The Mad Fest • Open Your Mind)
.
✿ Visuals by ALTERED LOOPZ (Rachdingue • insane Brain) Cat
http://www.facebook.com/trafak
••••••••••••••••••••••••••••••••••••••••••••••••••••••••••••••••••••••••••••••
► START 23h – 06h
✔ Entrada 15 euros include Long Drink
✔ Entrada 10 euros include Cerbeza
••••••••••••••••••••••••••••••••••••••••••••••••••••••••••••••••••••••••••••••
http://www.rachdingue.com/
http://www.facebook.com/RACHDINGUE.CLUB
————————–————————–
☼☼☼☼☼☼☼☼☼☼☼☼☼☼☼☼☼☼☼☼☼☼☼☼☼☼☼☼☼☼☼☼☼
★★★★ DON'T FORGET !!!! NIT DE ST JOAN !!!! ★★★★
✔ RACHDINGUE FESTIVAL 2012 BY ORTAFFONIC & YELLIE PINK
http://www.rachdinguefestival2012.com/
☼☼☼☼☼☼☼☼☼☼☼☼☼☼☼☼☼☼☼☼☼☼☼☼☼☼☼☼☼☼☼☼☼
————————–————————–