Archive for February, 2012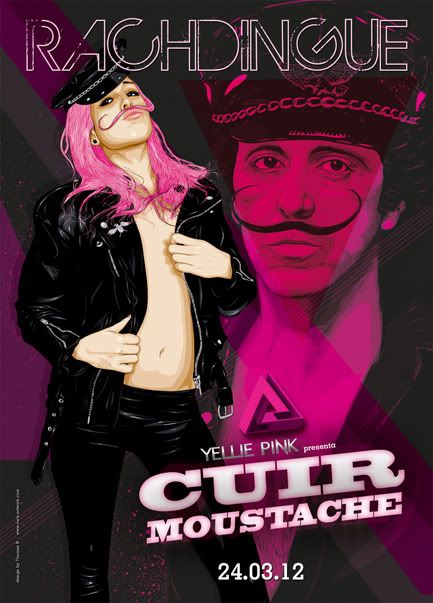 .
Line-Up: Main room
.
Chris Liberator (Stay Up Forever)
http://www.stayupforeverrecords.com/
.
Aaron Liberator (Stay Up Forever)
http://www.stayupforeverrecords.com/
.
Ben 9mm (Le Diable Au Corps / Astrofonik)
http://www.ben9mm.com/
.
Yoan L (Rachdingue, MIT Concept)
.
Biography:
CHRIS LIBERATOR: Perhaps the most loved and respected Acid Techno D.J. of all time, it is fair to say that Chris has probably played more squat parties, underground raves, technivals, festivals, clubnights, and parties worldwide in his 18 years as a D.J. than any other person alive, and is still completely dedicated to the music and the scene he got involved with when he started doing parties with the other two Liberators, Julian and Aaron back in 1991.
STYLE : plays FUNKY TECHNO, HARD TECHNO, and ACID TECHNO. Also plays occasional Punk sets, and party sets of old 80's dance, Hip-Hop and Reggae.
.
AARON LIBERATOR:  One of the three Liberators, the original Acid Techno DJ's, Aaron is the unsung hero of the scene, having DJ'ed for almost 20 years across the globe from squat party to rave, with uplifting, funky Dj sets that have helped define the genre. As well as being the backbone of the SUF Collective (with Chris) for over 11 years (behind all the biggest London techno labels and more besides, from Hydraulix and R.A.W. to BlackOut Audio and SP Groove), running the seminal Liberator labels Stay Up Forever and Cluster, and the Nuclear Free Zone clubnight ( the U.K.'s's longest running techno night), he has produced some of the scene's hottest tracks.
.
BEN 9MM: Founder of the famous labels 9mm, Hangover and Analog Replicant, Ben has released more than 30 records and remixes between 2003 and 2011 also collaborating with notorious labels such as Astrofonik, Le Diable Au Corps, Nazar Bazard and Senseless records.
Known for his Livesets made of pure Hardtek, Ben played at numerous clubs, raves and parties in Europe headlining events alongside some of the biggest DJs and producers including Lenny Dee, Dave the drummer, Hellfish & Producer, Radium, Narkotek, Sound Conspiracy and Heretik.
He moved from Paris to London in 2009 where he is actually running a recording studio and still producing Hardtek tracks but also more recently making Hip-Hop beats for Jam Baxter / Dirty Dike (Contact Play), Bahia, Pandra (CandyCash) and many more.
.
Expo Room
.
Dj Easydroponik ( B.Side) drumnbass
.
Sworz (drumnbass / Dubstep)
.
Fab'rikabass (Trancefuzion) drum n bass
.
Weedj (Sugar Sound factor, rachdingue) Cat
.
Entrada :15 EUROS with Long Drink
SABADO – DISSABTE – SAMEDI 24-03-2012
Rachdingue Spain – Costa Brava –
Vilajuïga A 10 km De Figueres 9km De Roses
http://www.rachdingue.com/
Posted by
February 16th, 2012